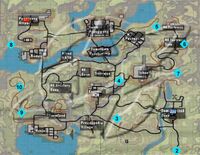 South Pyongan is a province in the west of North Korea, although it is never named in game, simply referred to as the "Southern Province". The Southern Province is located south of the Northern Province and also incorporates the capital city of Pyongyang in Mercenaries: Playground of Destruction. It is the first province the mercenary visits and features the Clubs and Diamonds as High Value Targets.
Geography
Edit
The Southern Province is located in central western North Korea. It is bordered to the north by the Northern Province and the south by Pyongyang. It features many mountainous regions around the perimeter, specifically the west and north-east, and large forested areas to the south-east which feature a prominent tunnel network used by the KPA. Unlike the Northern province there are no snowy areas.
The Southern Province contains the following locations:
In the Southern Province, China controls the most territory, as the airport, Haeju, Propaganda Village, and Nampo are under their control.
This is the only province to feature a Supergun.
Ad blocker interference detected!
Wikia is a free-to-use site that makes money from advertising. We have a modified experience for viewers using ad blockers

Wikia is not accessible if you've made further modifications. Remove the custom ad blocker rule(s) and the page will load as expected.