Rescue Carmona is the first and only VZ contract in Mercenaries 2: World in Flames.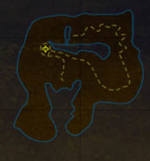 Objectives
Edit
Land on the beach
Wait for weapon delivery
Kill enemies
Destroy gate
Kill enemies
Wait for vehicle delivery
Get to waypoint
Destroy gate
Wait for tank delivery
Get to waypoint
Get to waypoint
Get to waypoint
Contract Complete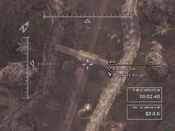 it gives no reward.
General Carmona
was supposed to stage a coup on the Venezuelan Government to put
Solano
in power but his troops rebelled against him and held him prisoner on Isla de Mano. This contract is very easy and acts as a tutorial and introduction to combat, vehicle controls, the PDA, airstrikes and supply drops. It is one of the few linear contracts in the game, this is fairly obvious judging by the amount of repetitive small objectives to simply accomplish 1 true objective.
After the opening cutscene, the player starts out carrying a Carbine in a Speedboat just South of the island where Carmona is. The player lands on the island, is given a Grenade Launcher supply drop, kills a few soldiers, uses satellite guided airstrikes, gets a Jaguar Tank, kills more soldiers and finally rescues Carmona.
Ad blocker interference detected!
Wikia is a free-to-use site that makes money from advertising. We have a modified experience for viewers using ad blockers

Wikia is not accessible if you've made further modifications. Remove the custom ad blocker rule(s) and the page will load as expected.