Yong Park, also known as the Queen of Spades, is a high ranking officer in the Korean People's Army in Mercenaries: Playground of Destruction.
ExOps bio
Edit
Name: Yong Park
"One of the most accomplished men in the DPRK's army. Park is an avowed poet, holds a black belt in martial arts and a master's degree in literature, and is both a feared and capable military commander. One American military journal referred to him as "Korea's Patton."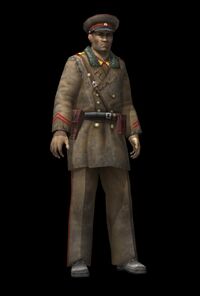 Park can be found in the Northern Province of North Korea, during the final Chinese contract of the game. Just like with the Jack of Spades, there are many tanks around him and that are used in his assault attempt on the Unsan Village.
Related pages
Edit
Ad blocker interference detected!
Wikia is a free-to-use site that makes money from advertising. We have a modified experience for viewers using ad blockers

Wikia is not accessible if you've made further modifications. Remove the custom ad blocker rule(s) and the page will load as expected.