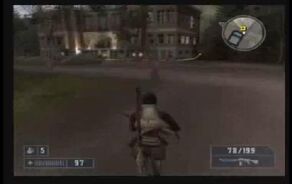 Pest Control is the first contract for the Chinese taking place in the first quarter of Mercenaries: Playground of Destruction.
The contract involves destroying a North Korean communications Head Quarters that is being used to spy on Chinese operations in the near-by Pyongyang airport. For a bonus, the Mercenary is also tasked with destroying four troop barracks located in the area.
Objectives
Edit
Destroy Enemy Communications HQ
BONUS: Destroy the four troop Barracks
Supplies Given
Edit
The Contract
Edit
After leaving the Chinese HQ the player can commandeer a Type 89 APC. The player should make their way up the indicated path until they reach a Chinese roadblock with an officer and another Type 89. Pass around the roadblock without running over and PLA soldiers (pick up a few if you want). Immediately after, a KPA roadblock should appear, destroy it and continue to the KPA HQ.
At the KPA occupied museum there will be two barracks on each side that you should destroy first. In the middle are a couple of MGs and a statue to Song, destroy those too. If your APC is destroyed get another one from the Chinese roadblock. Between the now destroyed barracks and the KPA HQ you will notice two apartment buildings, watch out for RPG wielding soldiers on each balcony. Use the Artillery Strike on the HQ to finish the contract.
The value of the contract is $50,000. The bonus is $10,000 per barracks destroyed for a total value of $40,000.
Ad blocker interference detected!
Wikia is a free-to-use site that makes money from advertising. We have a modified experience for viewers using ad blockers

Wikia is not accessible if you've made further modifications. Remove the custom ad blocker rule(s) and the page will load as expected.