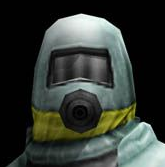 Ji-Won Han, also known as the Jack of Hearts, is the head of North Korea's nuclear weapon division and ICBM development, and also a member of the Circle of Five during Mercenaries: Playground of Destruction.
ExOps bio
Edit
Name: Ji-Won Han
"Colonel Han led General Kang's nuclear weapons division. After gathering an elite team of engineers and scientists, known as the Circle of Five, Han used funds from Division 39 to ensure his researchers were well supplied. Under his leadership, the team succeeded in manufacturing working nuclear warheads."
The Jack of Hearts is encountered during the Chinese contract Chain Reaction at the Taechon Reactors. The primary objective of this contract is for the player to verify the Jack either by capturing or killing and photographing him.
Related pages
Edit
Ad blocker interference detected!
Wikia is a free-to-use site that makes money from advertising. We have a modified experience for viewers using ad blockers

Wikia is not accessible if you've made further modifications. Remove the custom ad blocker rule(s) and the page will load as expected.