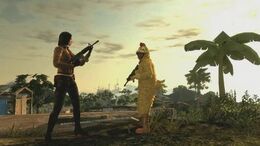 The Chicken Suit is an unlockable costume in Mercenaries 2: World in Flames.
It was previously obtained by preordering the game and receiving a one-of-a-kind code. This code would be entered and sent to the EA servers, making it usable once. It does not change gameplay or the character and is purely for aesthetic and comedic reasons.
This outfit would later on be unlockable by anyone by beating one of the level 3 wagers made by Fiona.
Ad blocker interference detected!
Wikia is a free-to-use site that makes money from advertising. We have a modified experience for viewers using ad blockers

Wikia is not accessible if you've made further modifications. Remove the custom ad blocker rule(s) and the page will load as expected.