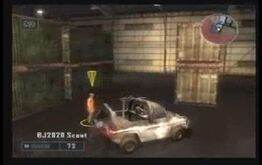 A Proper Function of Government
is the second
South Korean
 contract and takes place in the first quarter of
Mercenaries: Playground of Destruction
.
The contract involves rescuing a South Korean spy from Chinese territory.
Objectives
Edit
Rescue the South Korean spy from the Chinese controlled Airport
Supplies Given
Edit
South Korean Supply Drop 1x - Free
The Contract
Edit
After leaving the South Korean HQ the player should take the Chinese BJ2020 Scout to disguise them self and gain entrance to the Pyongyang Airport's restricted area. After entering the restricted area the alarm will go off if an officer spots the player.
Drive into each of the three hangers until the spy is found (he wears an orange jacket). The player will have to honk to get him to enter the vehicle, but the player will lose their disguise, if they still have it. Book it out of the Airport after that but be warned the Chinese will attempt to follow and have most of the roads to Kaesong blocked off. Once the player arrives at the SK HQ safely with the spy, the contract is complete.
The value of the contract is $55 000.
The spy is in the third place the player checks more often than not but can be in the first or second sometimes.
This is the first event which leads to the South Korean-Chinese War.
It is possible to fly a helicopter at any height over the hangers and figure out where the spy is before being shot at.
If the player wants to avoid the roadblocks, they can either fly a helicopter or drive over the railroad tracks going into south Pyongyang.
The contract title, A Proper Function of Government, may be a reference to the second episode of the same name of a series entitled Sandbaggers. The goal of the episode is to try to stop a high-level agent from defecting to a rival government, which is similar to the player having to stop a high-level agent from being captured by a rival government.
Ad blocker interference detected!
Wikia is a free-to-use site that makes money from advertising. We have a modified experience for viewers using ad blockers

Wikia is not accessible if you've made further modifications. Remove the custom ad blocker rule(s) and the page will load as expected.